Since it is over 7 months now since my sister Ruby moved in to enjoy the fruits of my labour I figured it was time I gave an update on how she is going.  She is like a different dog.  She has really settled in and is laughing all the way as she eases into her twilight  years.   She is oh so happy, increasingly confident and even cheeky sometimes.  Mum is overawed by Ruby's transformation but I'm not surprised.  I knew they were meant for each other.   Still, it is very heart warming to watch how Ruby has blossomed under the torrent of love and affection of my pack.
Not all smooth sailing…
The first 7 months hasn't been without its challenges.  About the time Barney came to visit Ruby had to have a mammary tumour removed and then at Christmas she had another op to get her ear fixed at which time she also got her teeth cleaned and two rotten teeth pulled out (yikes).  She has also had lots of tummy upsets and it wasn't until mum got her allergy tested and discovered that she was allergic to almost everything that she has been able to bring it under control.
But I'm suspicious. I think it's all a con.  Ruby gets cooked chicken and vegies EVERY day while mum and my step dad live on lentils and beans.  I'd do bad poops too if I knew mum was gonna fuss over me like that.
All things dog!
Now that Ruby is getting more confident she is starting to guard the house (she even had the phone man shaking in his boots.  I was so proud). She is also super vigilant about possums and loves to chase cats, just like me! The only weird thing she does (to me anyways) is she loves to eat possum poop!
Ruby has such a sweet nature so it isn't surprising that she has made lots of friends at my favourite park where her and mum go most days.  And I'm also pleased to see that she has discerning taste – she doesn't like the same dogs that I didn't like!  The park and the nearby duck pond are her regular haunts.  Ruby loves the ducks!
There is a sooky side…
I loved the water. I loved the beach and the river and I loved going for walks with mum, rain hail or shine. But Ruby hates water.  She wasn't impressed with the beach….
…. and she won't go for a walk in the mornings if it is raining and as for baths…. she carries on like a real baby when it's time for a bath (it's a bit embarrassing really).
Boyfriends??
I had a boyfriend down the road who left for the bridge about a year before me.  He was eleven.   Ruby is trying the long distance thing.  She has fallen for an overseas guy with a fancy accent.  I couldn't imagine having a boyfriend I couldn't rough and tumble with but Ruby seems happy enough with it (but then again, I know she still struts her stuff at the park with the younger dogs – I see everything.).
Happy and loved
Like me, Ruby loves sharing the bed with mum and my step dad, she loves her walks (as long as it's dry) and she loves a little bit of silly play.  One of her favourite toys is one of my favourite old toys, this squeaky soft ball….  how happy does she look???
Life is too precious not to keep loving…
Mum still misses me too much.  I guess that's to be expected.  A love like ours is one of those once in a lifetime loves.  But, mum loves Ruby too, just in a different way and I'm OK with that, in fact I'm really happy for both of them.  I was mum's heart dog, her protector, her best friend.  This time it is mum's turn to be the protector of Ruby.  Where I was cocky Ruby is less certain of herself and where I was full of tom boy enthusiasm and boisterousness Ruby is all lady-like, gentle and delicate.
Yep, no doubt about it, Ruby has got herself the perfect home to retire in.  She can grow old in comfort, cosseted by the most loving mum and dad a doggie could ever ask for.  I hope she realises she has me to thank for smoothing the way for her!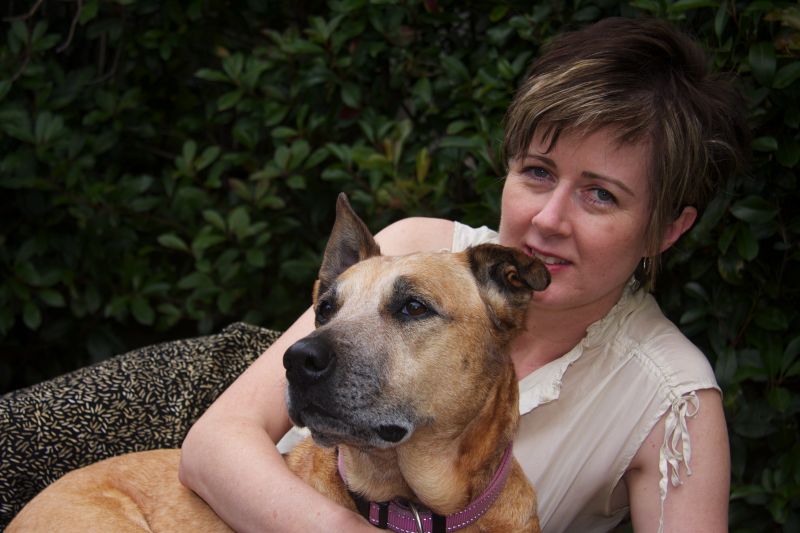 Love and kisses
Spirit Magnum