… The time has come for mum, my step dad and Ruby to start a new adventure as they head off on their "tree change".
Mum shed a few tears as she said goodbye to the home where we shared many wonderful years together, the home where she cuddled me through the darkest hours of our last night together. But it wasn't too many tears.  After all, mum knows that my spirit is always with her wherever she is even if she can't quite feel it.
The awesome thing is that they are moving to a place that is familiar to me.  Mum and I have been to that same area once before, roaming the streets and the surrounding bush.  It warms mum's heart to have a memory of me fit and healthy as her and Ruby re-trace some of the same ground that we did many years before.
I couldn't let mum leave our home without marking my territory one last time (because that, and guarding my mum and home is what I do best).  As she took Ruby for her last walk around the area she saw this in freshly laid concrete across the road from our house….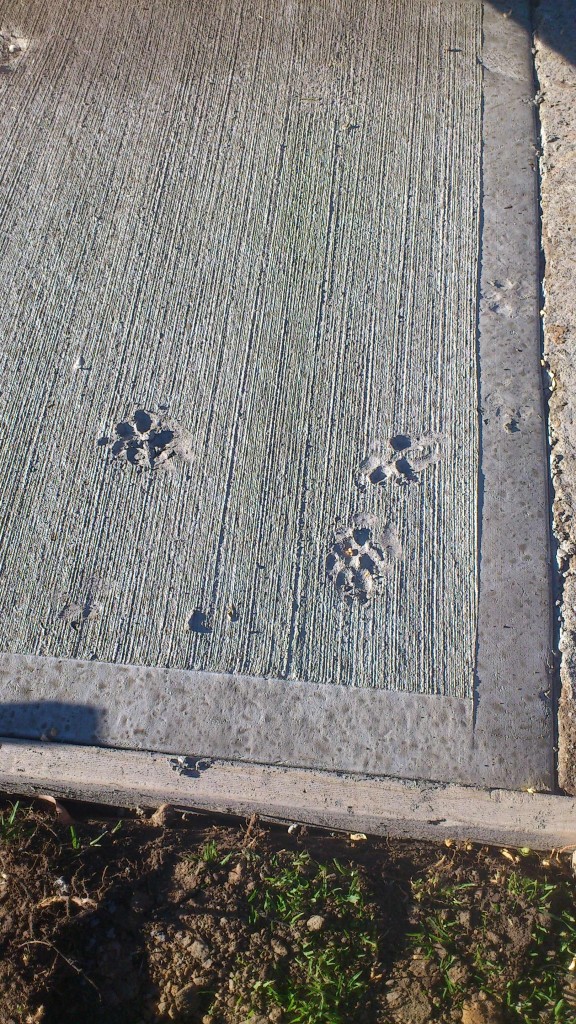 No matter how many kisses and cuddles mum and I shared mum always wanted just one more….
No matter how many signs that I send her letting her know I'm OK mum always wants just one more…
I guess it's only to be expected.  After all, she is only human.
Merry Christmas everyone.
love
Spirit Magnum
XXX