I didn't think I'd be posting again so soon after completing my story last week (although I had my suspicions…..). I am just sooooo excited. I have a new Monkeybutt sister!!!!!!!  I am so proud of my mum. I was really worried that she would sink into a deep depression when I was gone. She still cries too much but that's the way she is. Tears are as natural to her as barking is to me. It saddens me to think that my going has caused her so much unhappiness. That's why I've stuck around… to make sure she is OK. My step dad has been a wonderful support to her but I know what a handful she can be and that sometimes only the touch of a furry paw and wet nose will do.
I was scared that mum would close off her heart and refuse to love again. So it is with much pleasure and excitement that I now introduce my new sister, Monkeybutt Ruby.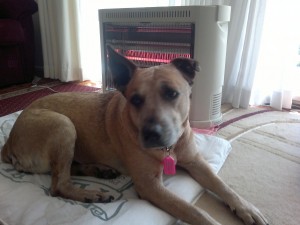 Ruby is a 10 year old rescue dog, an Australian cattle cross stumpy. She is missing a tail, just like me!  Mum first saw her picture in the local rescue magazine over four months ago (while I was still in my body….. how rude……well, actually…. I like to think that I picked her out for mum). Mum hasn't been able to get Ruby out of her mind. There was just something about Ruby that called to mum and mum could see some of my cheekiness hiding in Ruby's tired, sad face. She found out that Ruby still hadn't found a home so she made an appointment to go and meet her, still feeling a little unsure, wondering if it was still too soon, whether I'd be OK with it. But when she was given a lead with "Call me Princess" printed on it to take Ruby for a walk she knew that it was meant to be.  It was fate.
Mum felt there had to be a reason for God calling me away before my time and it has really bothered her as she tries to make sense of it all. She came to the conclusion that it was because my earthly job was done. I'd opened her heart and shown her what was important in life and how to live it to the fullest. Now it was mum's turn to give back to another doggie, a doggie who hasn't known the love and warmth that I knew, and who can live out her twilight years with comfort and dignity and most importantly lots of love.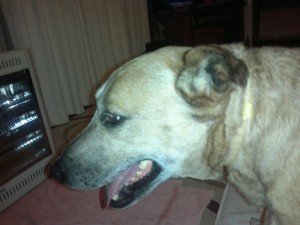 Ruby is "almost" as beautiful as me! I know she will never take my place in mum's heart. I was mum's first love. But, with the love that mum and I shared mum's heart has grown bigger and now there is more than enough room in there for Ruby as well as me and my step dad (I have to mention him because he gets a bit insecure about all the doggie love). And I couldn't be happier for her. I'll still be keeping an eye on mum but I can now get on with having fun and wreaking havoc here at Rainbow Bridge knowing that she is going to be OK.