Hi, this is Magnum, aka Princess. It has now been five weeks since my spirit was set free.  As much fun as I am having wreaking havoc at Rainbow Bridge I still need to keep one eye on my mum who is doing it tough and still needs me.
Mum wasn't up to sharing our journey as it happened so my final gift to her is to help her write it now.  It is a story with all the usual suspects –  love, tragedy, heartbreak and hope.  Between us we will try and write a little bit each week and we'll try to keep it as brief as we can!
When I was diagnosed with osteosarcoma mum discovered Tripawds but she wasn't ready to face the inevitability of my fate and stayed away from the site.   It was only when the mets started to show themselves that mum knew she could no longer do it alone and came back to Tripawds looking for support and understanding.  She found it in abundance and I am eternally grateful to all those who gave her that much needed support. It made it a little easier for her to say goodbye when the time came.
Mum always wanted to share my story but was scared of tempting fate.   I know she wants to tell the world what a brave and beautiful girl I was (her words, not mine, although I was never known for being modest so I guess they could be my words too! When your mum keeps telling you what a beautiful and good girl you are you start believing it). This is partly to help mum heal and exorcise some demons and partly in the hope that our experiences – feelings, decisions, regrets (mum's regrets, not mine, us dogs don't suffer from that affliction) – will help other mums and dads who find their much adored dogs facing this insidious disease.
Mum found an inner strength she didn't know she had when she allowed my spirit to soar on Saturday 5th May 2012.    She had taken the Monday off work to spend quality time with me but cancer has a way of catching you by surprise, even when you are expecting it. So, instead of the anticipated pleasure of cuddling in the autumn sun mum spent the day in a flood of tears as she commenced work on a tribute for me.  I wanted to comfort her, let her know that I was happy, safe and pain free but she couldn't hear me.
(Note from mum (Karen) – Below I've scanned the card my husband and I sent out to friends one week after Magnum lost her eight month battle with osteosarcoma. She was everything to me and it was (and still is) so hard to believe that I will never again cuddle her warm body, bury my face in her fur, gaze into her adoring eyes or wake up to her kisses.   I still miss her so much.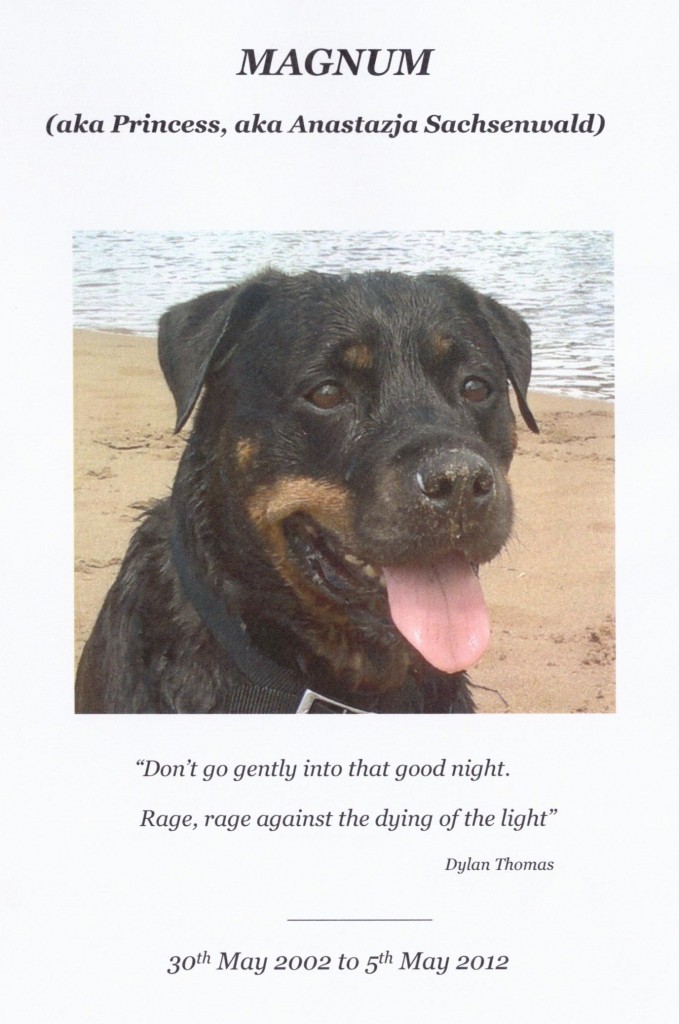 __________________________________________________________________________________________________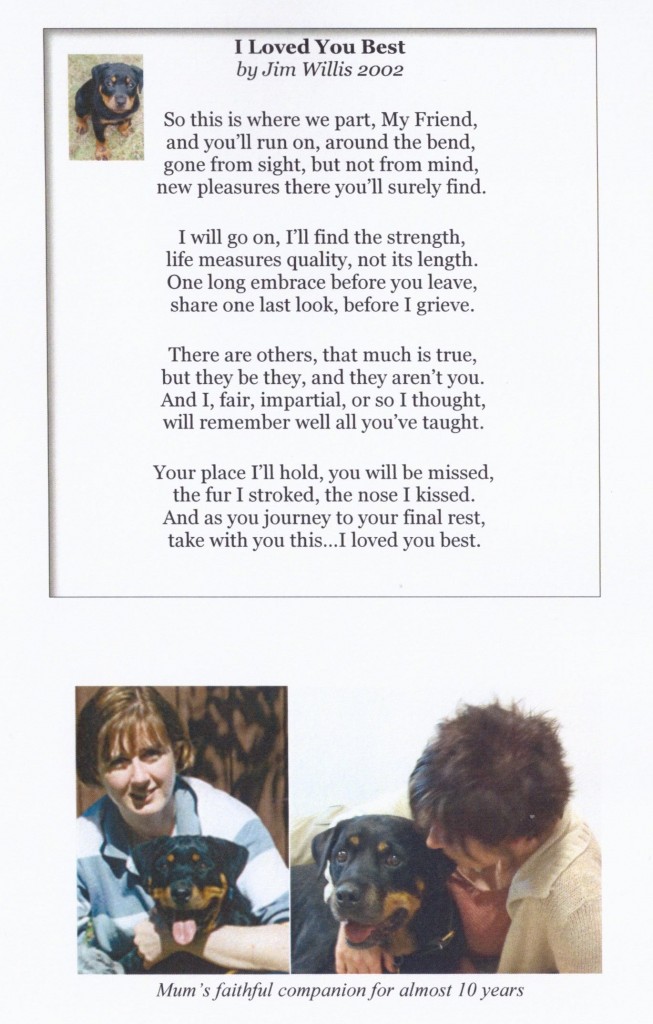 ___________________________________________________________________________________________________