As everyone knows, Barney has come to Sydney to visit my pack and get a taste of life down under. For those of you who don't know me I'm not known for keeping it brief so go get a cup of coffee and settle down for this tale of failed romance, sun, surf and fun.
Welcoming Barney
My monkeybutt sister, Ruby, initially greeted Barney with gusto, tearing into him in a way that left me feeling very proud of her.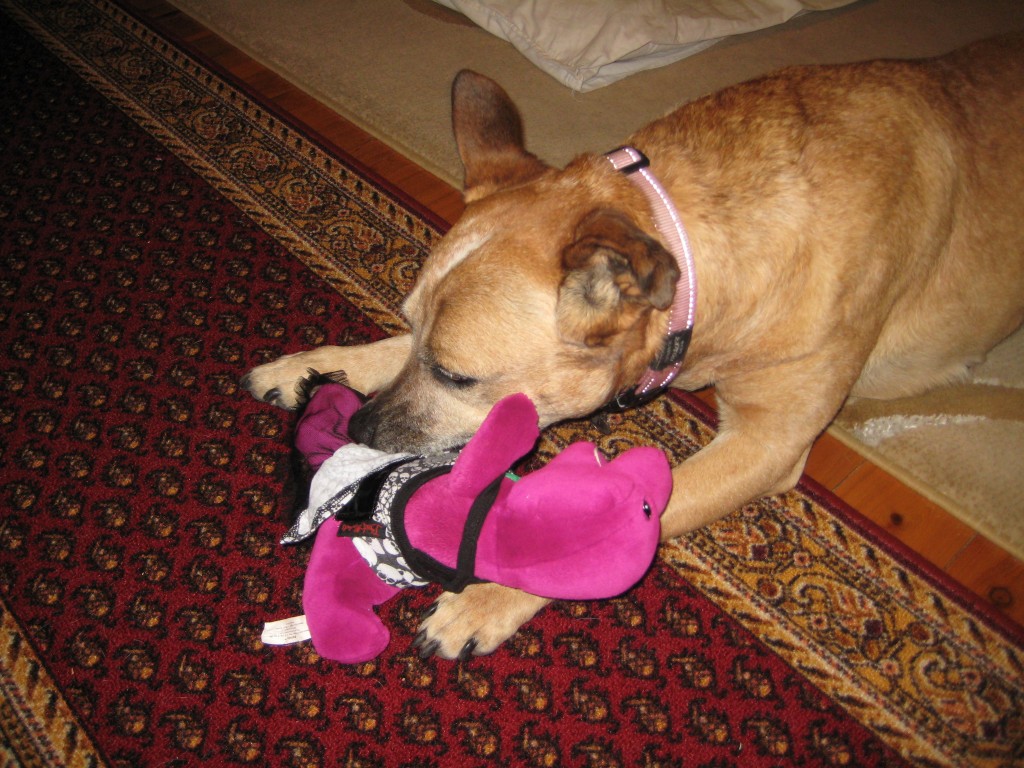 But then, to my horror, she quickly tired of tearing him apart and left Barney alone.  I was devastated until I realised she had an even greater weapon……… indifference!
Barney's wooing fails to impress
Barney was feeling particularly smug after successfully seducing sweet, innocent Kayla in NZ that he thought he could continue his conquests in Aussie land.  Well, he was sadly mistaken.  Ruby is a much older dog who has seen it all and she wasn't fooled by Barney's charms.  He tried so hard to gain her affections but she steadfastly refused to acknowledge him.  She showed a maturity that I could never have matched.
Barney tried taking off his dress to impress Ruby with his finely defined dinosaur physique but she was not amused and begged mum to send him away.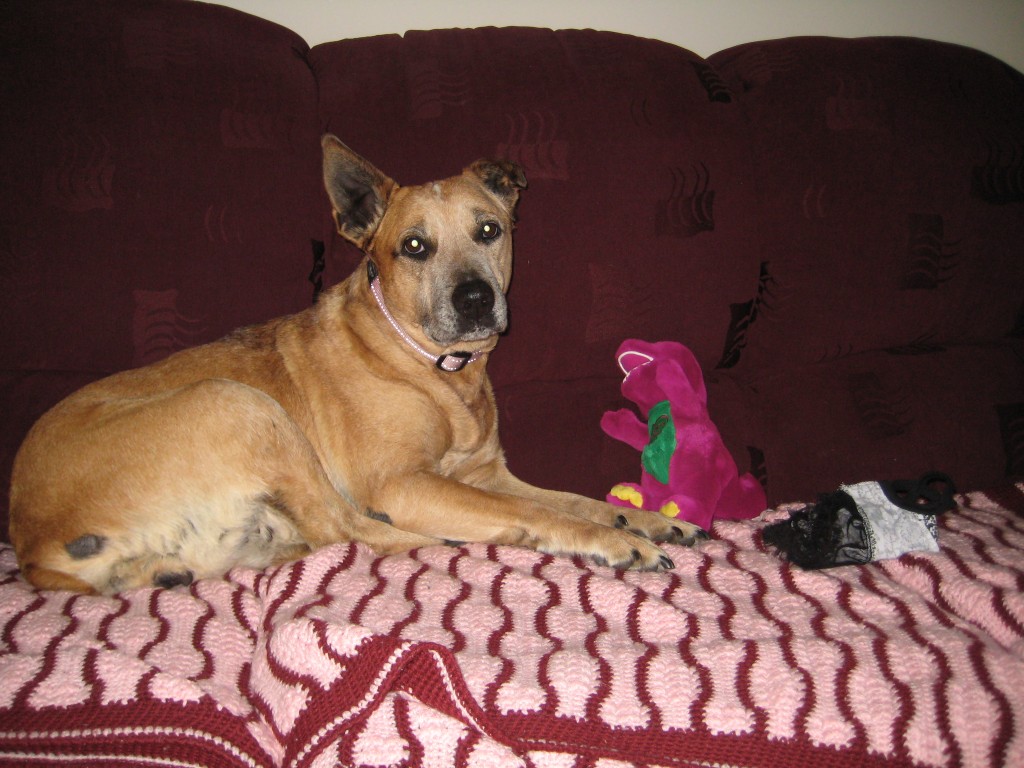 He then tried whispering sweet nothings in her ear but she refused to be tempted by this would be romeo.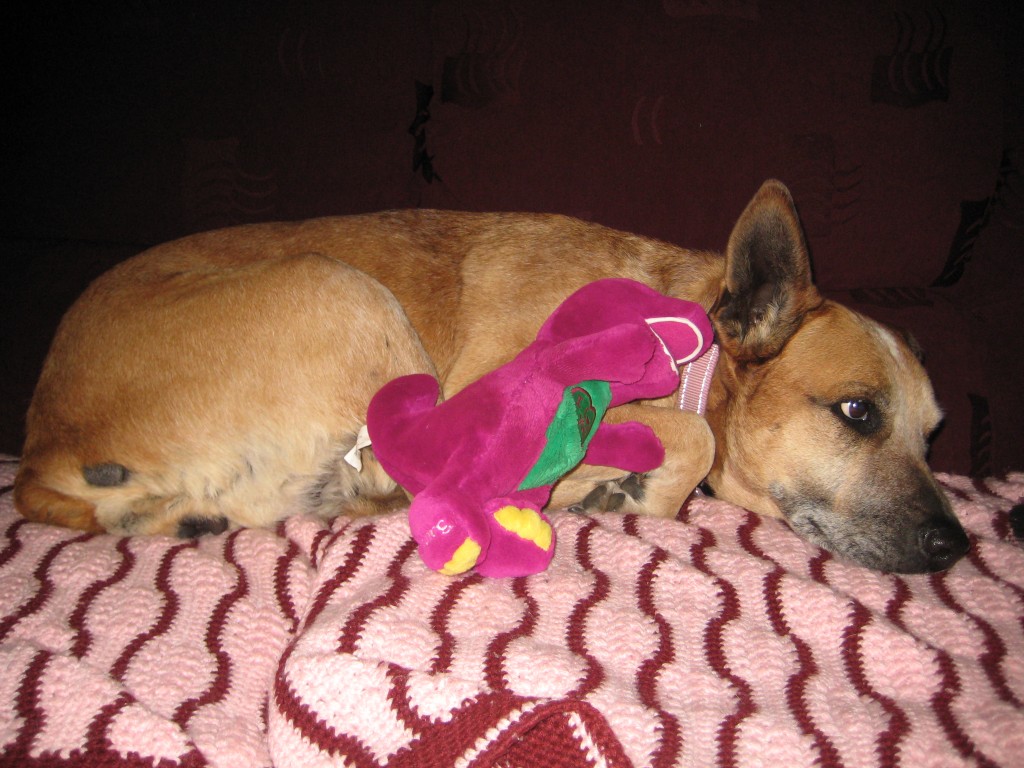 Barney the Sydney tourist
When mum and dad told Ruby they were going in the car to see the sights of Sydney Ruby was initially excited until she realised "HE" was coming too.  She couldn't believe it, her first trip out with mum and dad as a family and she had to share their attentions with this interloper.  Who invited him anyway???  I had to step in and tell her that I had invited Barney to Sydney and that it would mean a lot to me if she could show him her best Aussie hospitality (but of course she was free to rip off his head if he gave her too much of his nonsense).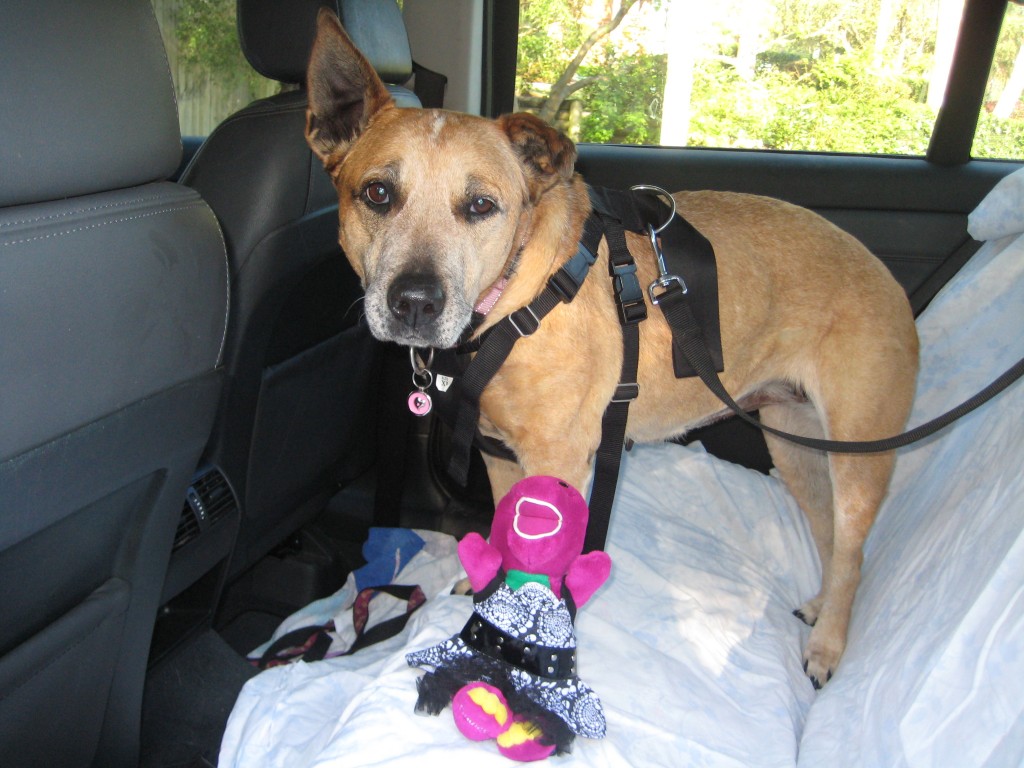 Bondi Beach
It was an absolutely glorious, sunny spring day and the first stop was Bondi Beach. Barney could barely contain himself when he saw the beautiful sand and surf.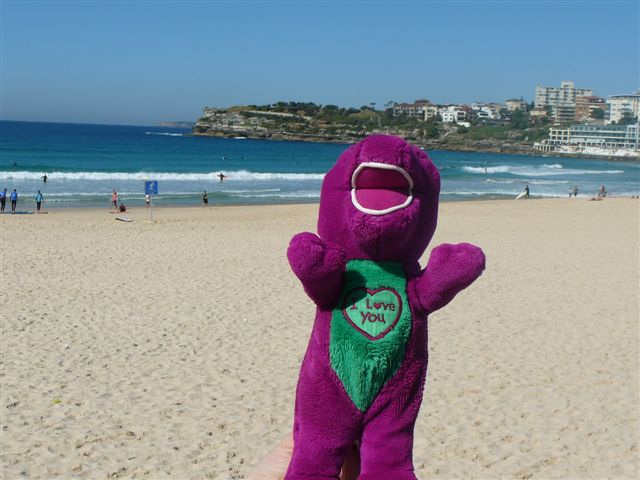 On Ruby's advice he lathered on the sunscreen and proceeded to soak up the sun.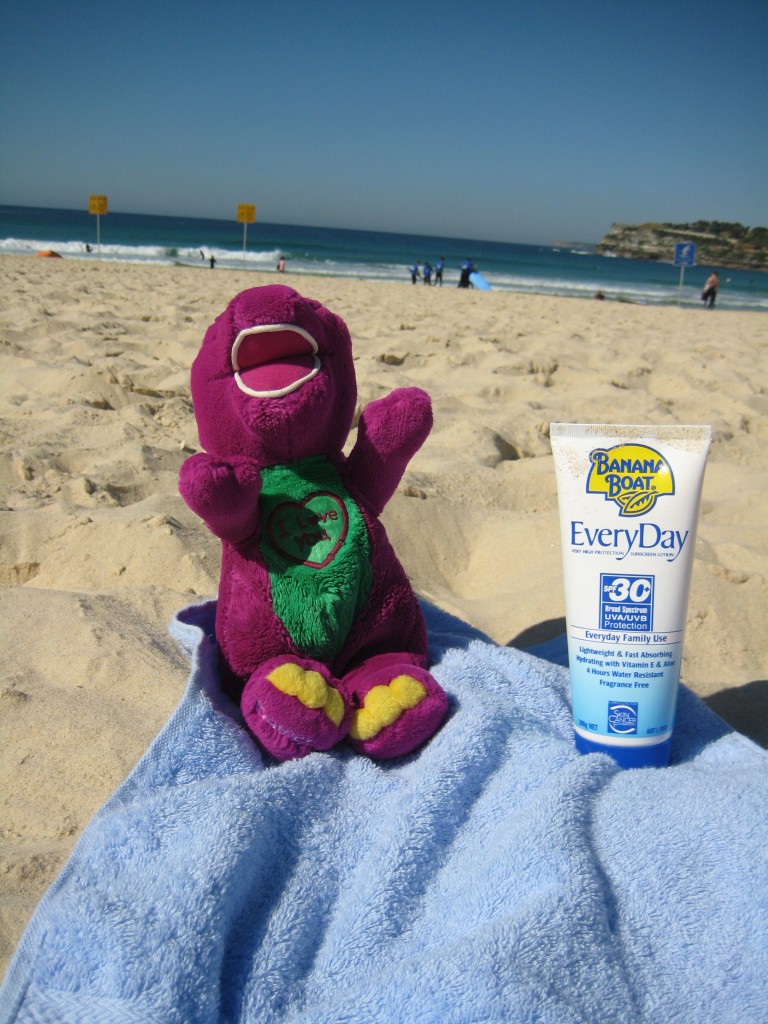 It was very warm under the sun and Barney thought he'd cool off in the ocean.  Ruby tried to warn him against it but he can be one stubborn dinosaur.  Needless to say the swim did not go well.  Barney discovered that he can't actually swim.  Lucky for us there were plenty of lifesavers on duty and we were saved from trying to explain to the Tripawd community how Barney was lost at sea.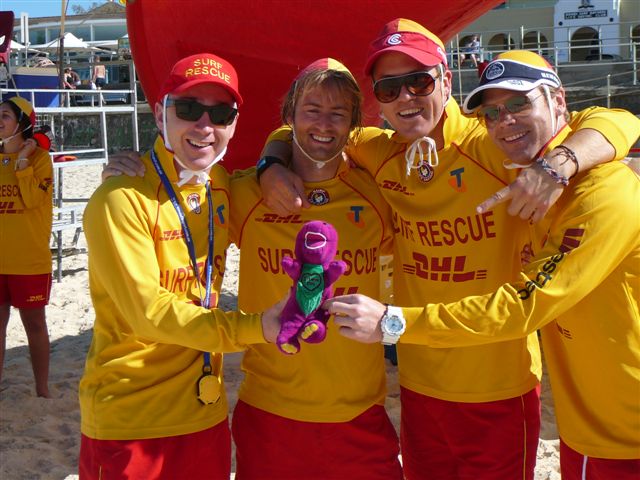 But…… I can't help wonder if it was all a ploy by Barney to meet the lifesavers.  He seemed just a bit too pleased with himself when they rescued him! He has got serious "look at me, look at me" issues which became more and more obvious as the day wore on.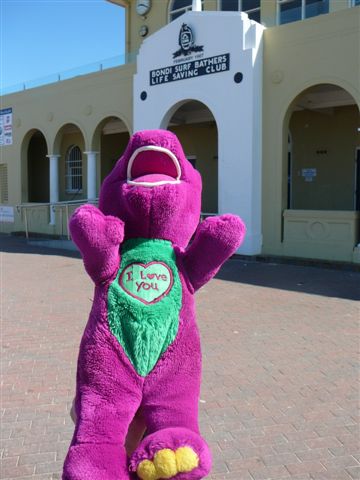 Sydney Harbour Bridge and the Opera House
We said goodbye to Bondi Beach and headed into Sydney's iconic landmarks – Sydney Harbour Bridge and the Opera House.  Ruby was still feeling a little guilty about Barney's near miss that she allowed him to pose with her with in front of the bridge.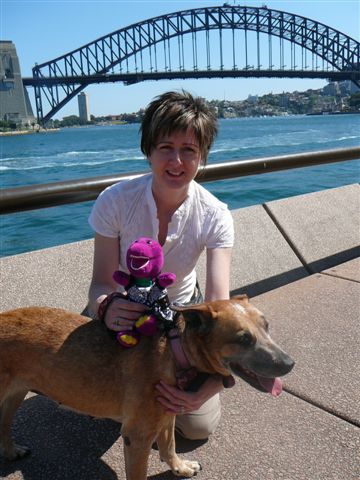 Barney had put that silly dress back on but fortunately common sense prevailed under the warm spring sun and he soon took it off again.
Barney posed heaps in front of the bridge and opera house (lots of "look at me, look at me" carry on from him).  Here are just a couple of photos….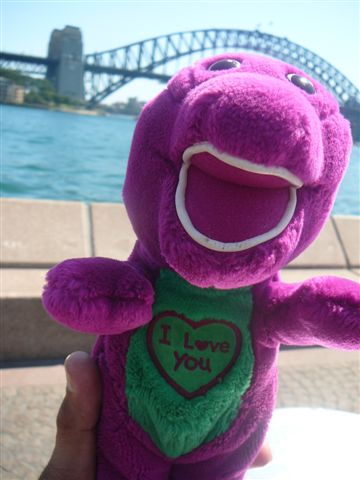 On the way home mum and dad went over the Harbour Bridge.  To my disgust they let Barney ride right in front and without a harness!!!!!  Stupid dinosaur was so busy posing for the camera he wasn't even looking at the arch of the bridge as the car drove towards it.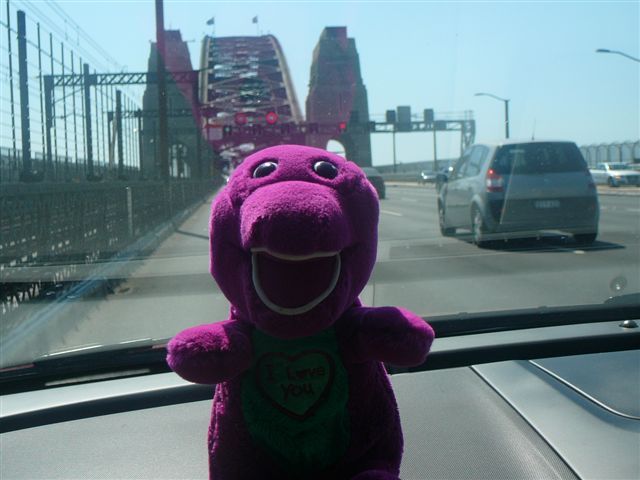 Wrapping up….
It was a beautiful day and thanks to Barney, Ruby got to go to places I've never been.  But that's not all. There is still more that we want to show Barney before we send him on his way so stay tuned for part 2…..
Kisses and hugs
Spirit Magnum