We couldn't let Barney leave Australia without meeting some of the natives up close and personal.  Unfortunately Ruby wasn't allowed to escort Barney on this trip but, as a spirit dog, I was able to tag along unchallenged.
Mum and my step dad explained to Barney that Australian animals are VERY dangerous and he was not to try and enter their enclosures.  But….. in typical Barney fashion, he tried to scale the fence at the very first stop at a wallaby enclosure!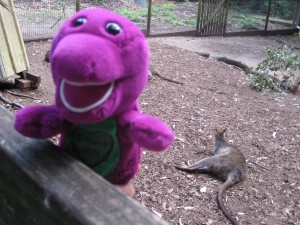 Barney thought about jumping the fence again a little later but when this wallaby gave him the evil eye he changed his mind and was quickly out of there!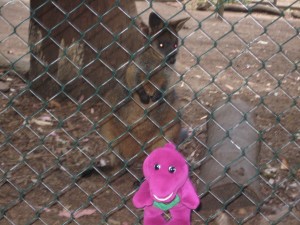 Barney's confidence was a little shaken after his near miss and for a while he did as he was told and didn't try any more tricks to get closer to the animals.
After seeing the dingoes we then saw this…….  It had Barney (and me and mum and my step dad) do a double take.   A peacock preening to a herd of sheep ????  Not something we expected to see.  Don't know what to say about that.  We just quickly moved on…..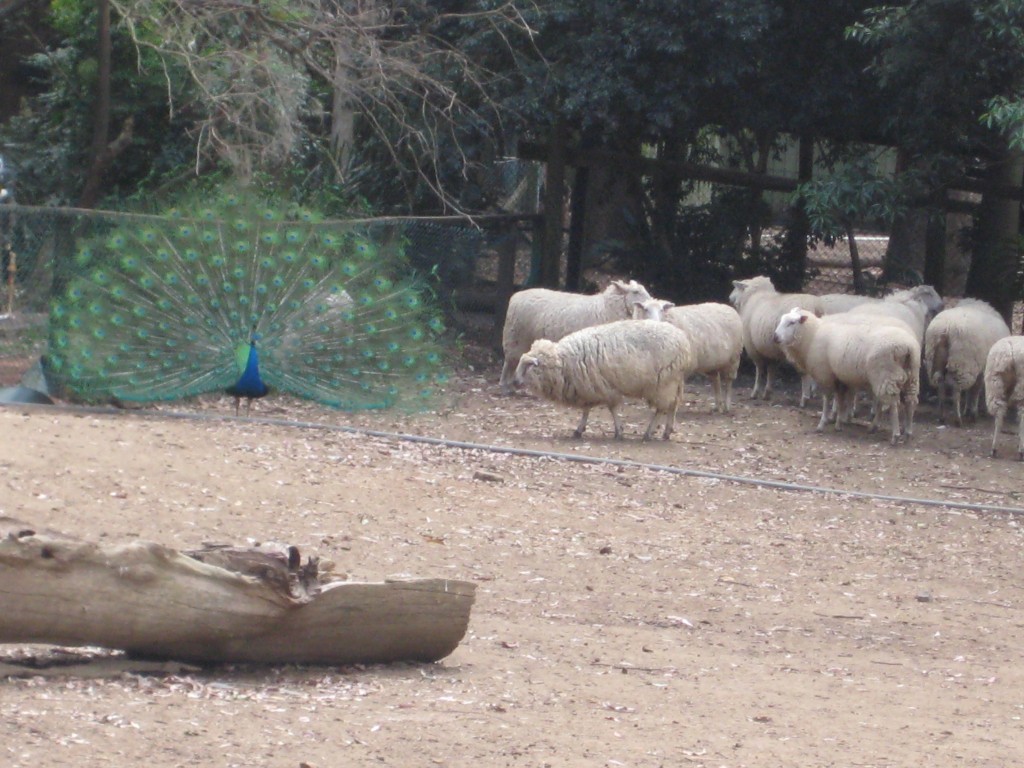 Barney isn't one to stay meek for too long so it wasn't long before his confidence had returned and he was trying his charms on an unsuspecting koala who was free to roam amongst the visitors.  I had to control my laughter as I watched her completely ignore the stupid dinosaur.  He wasn't going to get anywhere with her.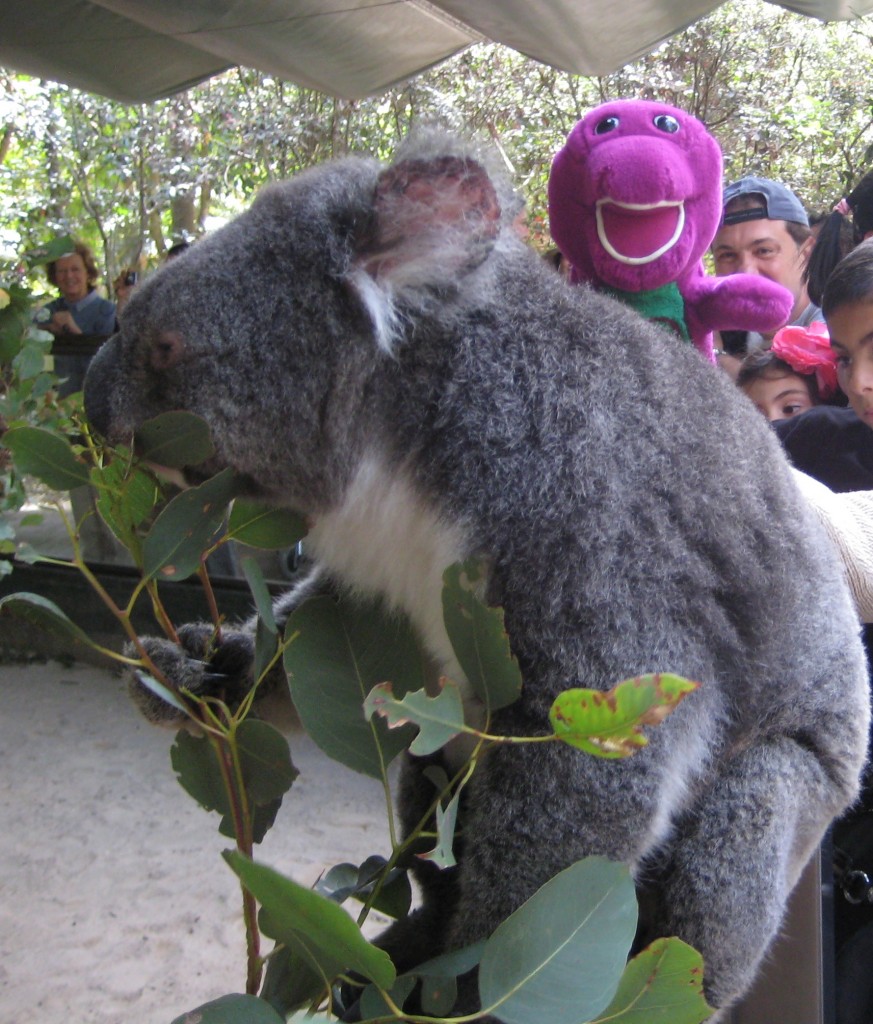 While mum and my step dad were making their apologies to the koala Barney took the opportunity to sneak off.  By the time mum and dad realized he wasn't with them it was too late to stop him from scaling the fence and jumping into the enclosure with the kangaroos!!!  I sat back and calmly waited for them to tear him to pieces.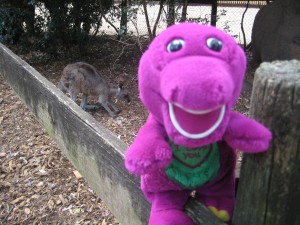 Initially Barney and the kangaroos seemed to be getting along OK. They were curious about this strange purple creature. He looked so different to anything they had seen before and he smelled different too. In fact, it looked like Barney had finally found some animals he could charm.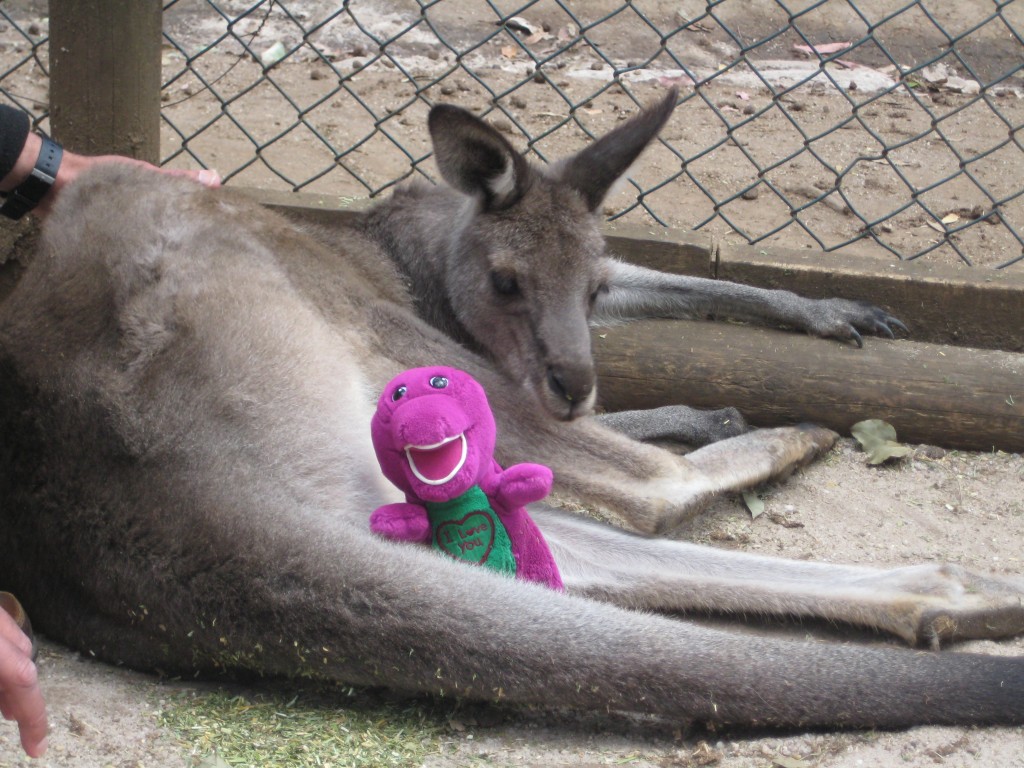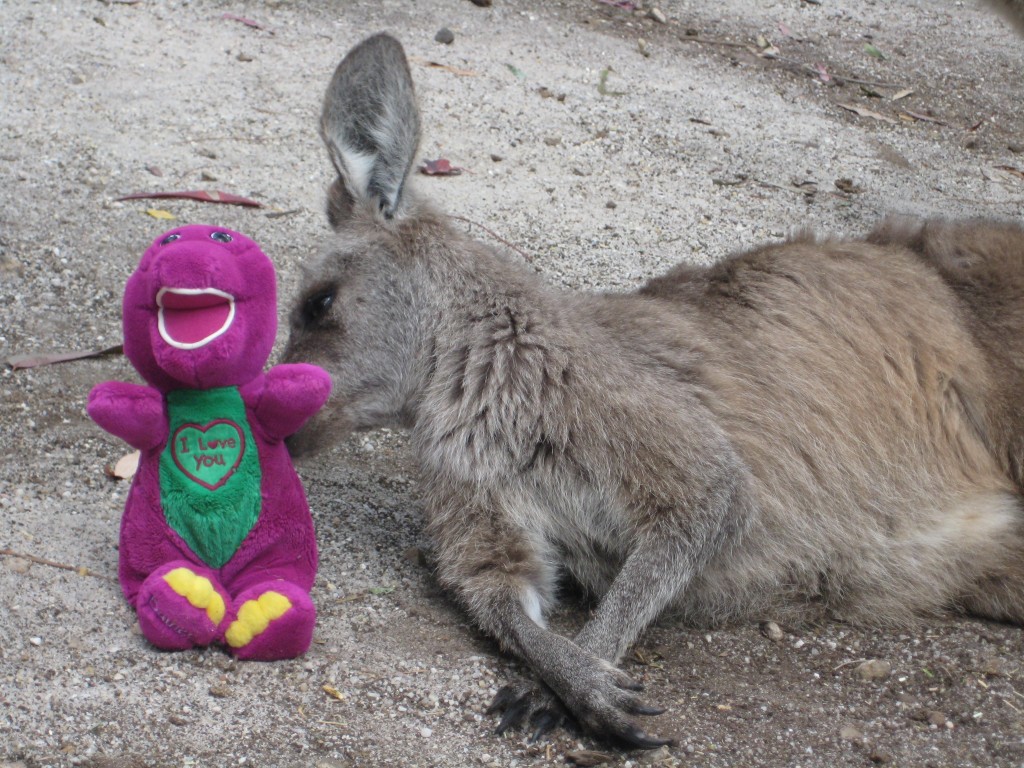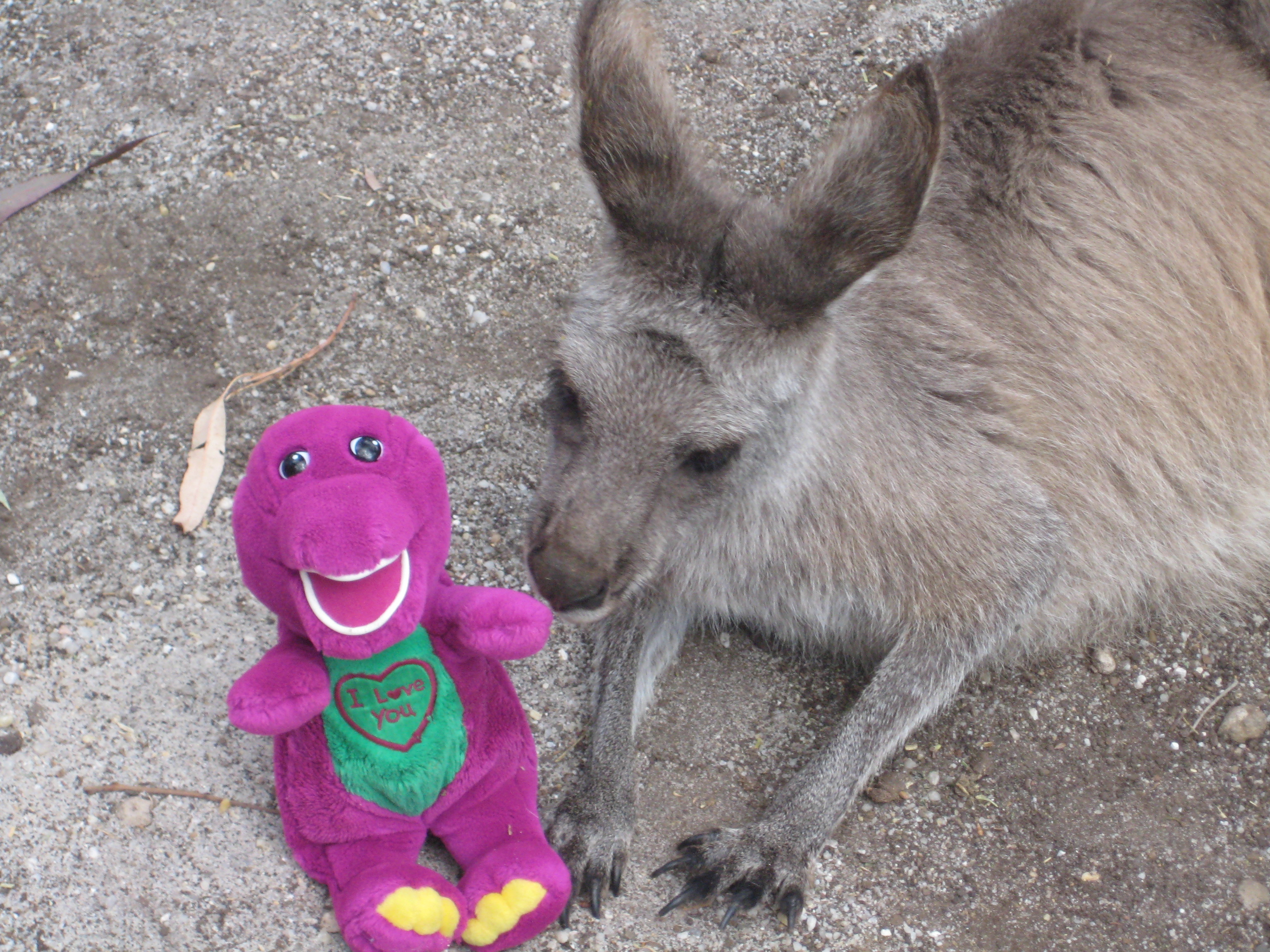 But then Barney started mouthing off in his usual arrogant manner and the mood changed…….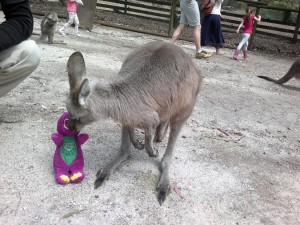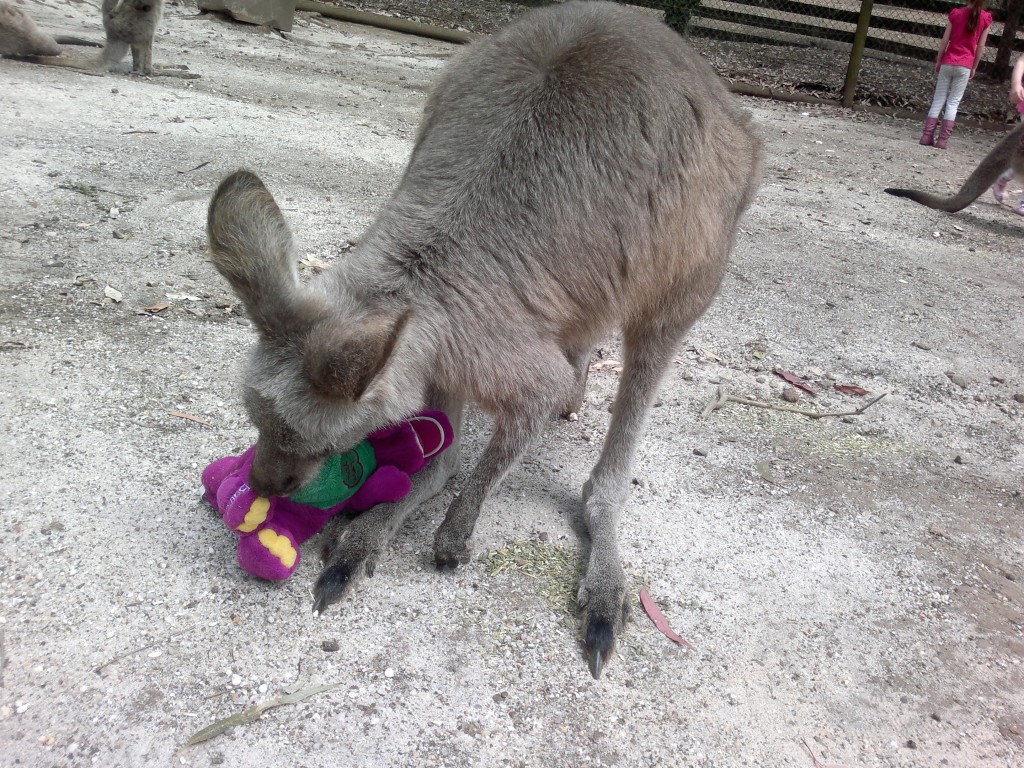 I was cheering the kangaroo on, it looked like Barney was finally going to meet his Waterloo…….. but my step dad (who always hated it when I tore up my toys) stepped in and saved the dinosaur from certain death.  He's such a spoil sport.  There would have been cheers across the Tripawd nation.  Sorry everyone, we almost had him!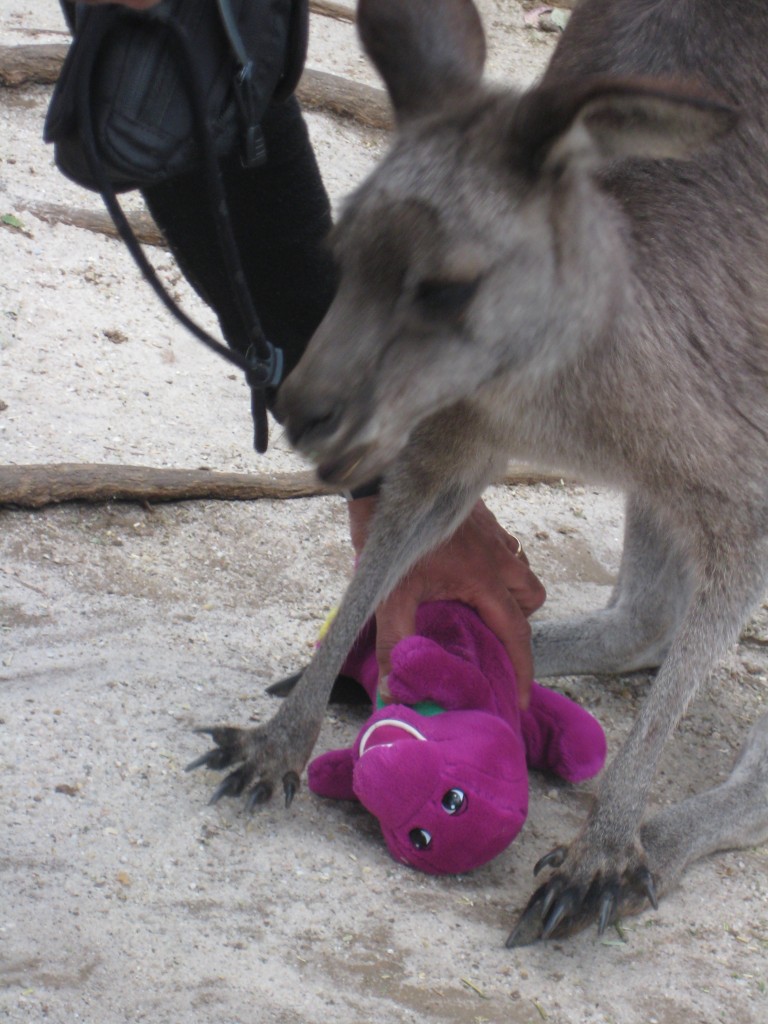 I hadn't intended on having a part 3 but…….. as you know …….  I can go on and on and on ……..  but it's not my fault.  Those blasted life savers saved Barney from drowning and now my step dad has saved him from being eaten up by a kangaroo.  I'm going to go for third time lucky and see if I can kill him off good and proper. So, stay tuned for the third, and I promise, last, chapter of Barney's visit down under. I promise to write again in the next few days because Ruby has had just about enough of this attention seeking dinosaur and is begging mum and dad to send him on his way.
But…….. I won't promise just how much of Barney will be left to send onto his next destination!!!!!
Love Spirit Magnum