When mum and my step dad said they were going to the Blue Mountains for the day I thought I'd take one last shot at making this the FINAL KillBarney tour for the stupid purple dinosaur.  But…. it turned out to be a bit of an anti-climax after all the previous excitement!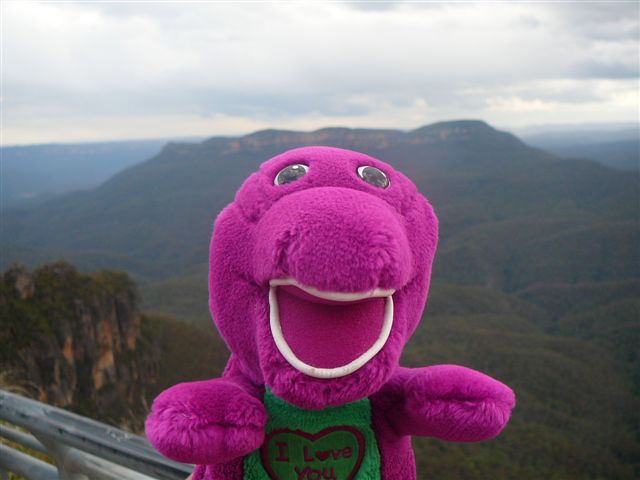 According to Aboriginal legend the rock formation called the "three sisters" was once three flesh and blood sisters who were turned into stone.  I thought it was a fitting place for Barney to be turned into ???? errr… whatever it is that a stuffed toy becomes when they are broken into a million pieces???  While Barney was getting his photo taken I did my best to channel some wind to blow him over the edge, but to no avail……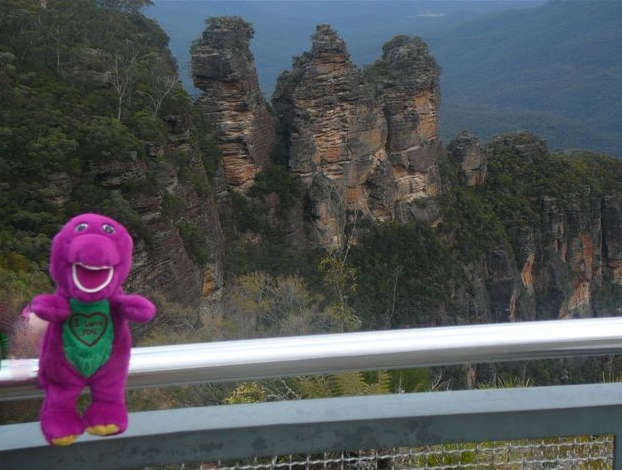 Barney was soon onto me and wouldn't go any closer to the ledge. My last chance to do away with him had been thwarted!!!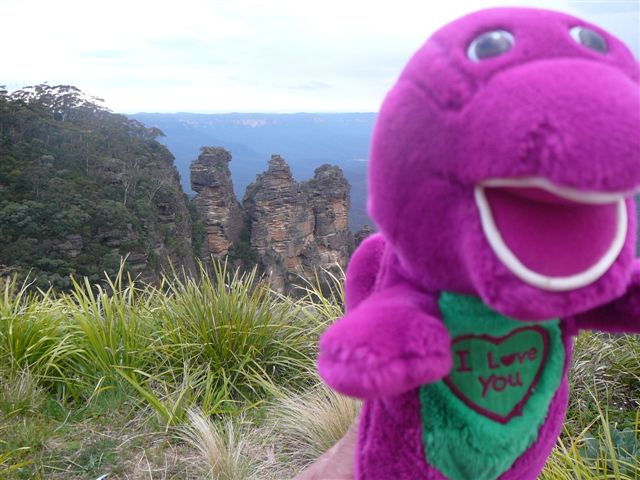 He cried like a big sook afterwards but his tears failed to move Ruby. She just wanted to go home.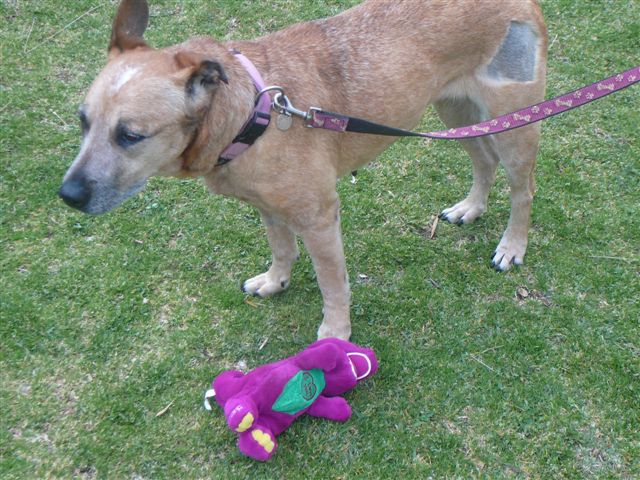 Coming to the end of Barney's stay down under…..
I hate to admit it but I was a little relieved when my attempts to kill off Barney failed.  He's grown on me.  He is the most stupid, arrogant, colourful looking stuffed toy I've ever seen.  He makes me laugh.  So, as a thank you to Barney for helping me and my pack laugh together again I asked Ruby to show Barney one of my favourite places, a little bush track close to home that mum and I used to walk a lot before I got cancer (but never afterwards).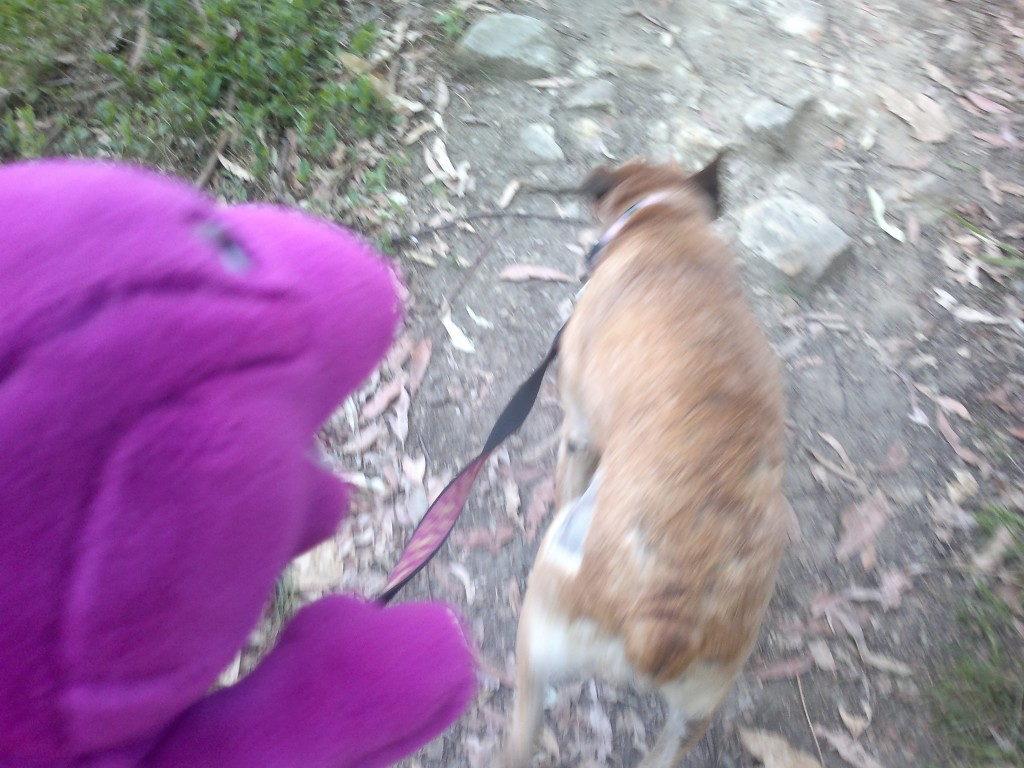 This was a time when we were too busy "living" to remember to take photos so there is not even one photo of me here.  But it is a special place for me.  I feel at peace here and I know that mum also feels my presence in this place and while she was initially confused, now understands why, of all the wonderful places we spent time together, I choose this particular place to come back to.  It reminds me of when I was brimming with confidence, fit and healthy and pain free, dragging my mum on walks that went on for hours.  It reminds me of a time when life was perfect.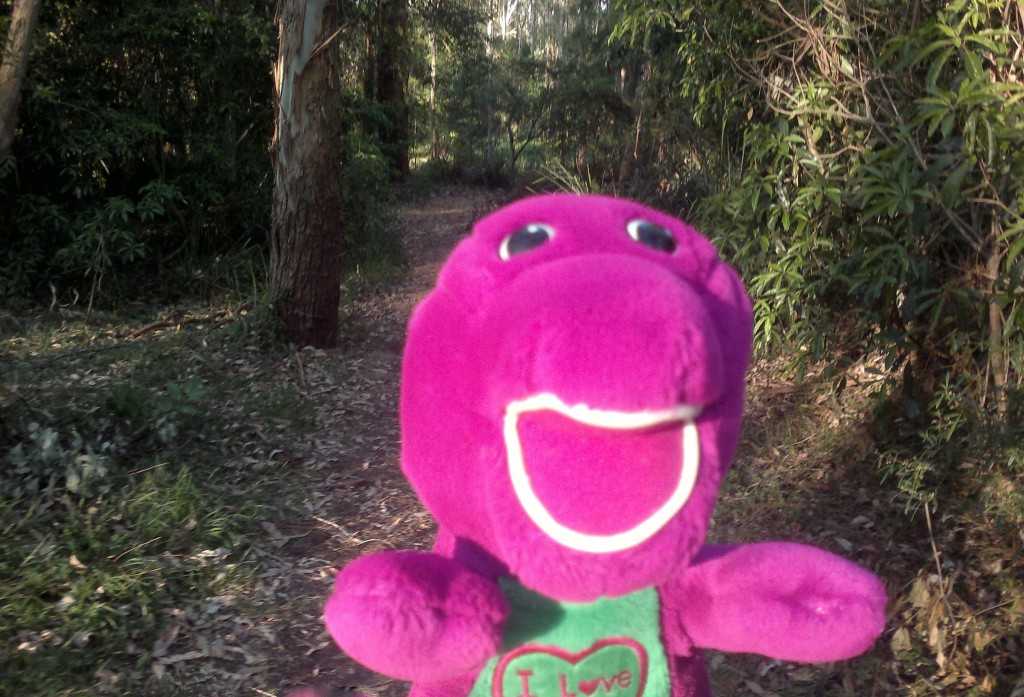 Barney brought much needed laughter and silliness to my pack.  His arrival coincided with my sister Ruby needing to get surgery for a mammary lump and another lump on her leg so the atmosphere was a bit tense for a while. I've kept quiet about it, not wanting to take away from Barney's trip, but I can now say it is all good news. The lumps were both benign!!!  
Thank you Jerry and everyone in the Tripawds nation for letting my pack host Barney.   It has taken a stuffed dinosaur from across the other side of the world to motivate my mum to set foot for the first time ever on Australia's iconic beach, BondiBeach!  And while my sister Ruby has remained steadfastly indifferent to Barney,his visit has enabled her to visit the bridge, the opera house and the three sisters.  Places I've only visited since becoming a spirit dog!
I always loved to be silly with my pack, laughing with them and basking in their love.  After all the tears and heartache it makes me so very happy to see them finally being silly again.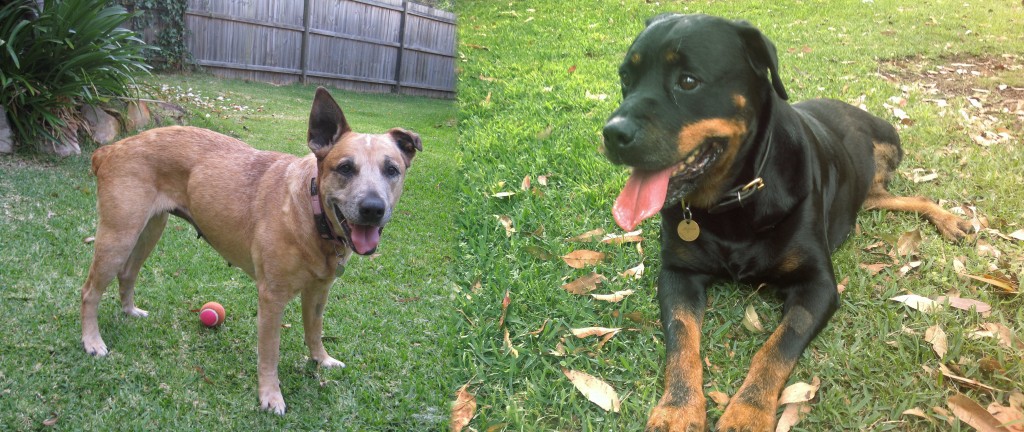 Lots of love, kisses and hugs
Spirit Magnum